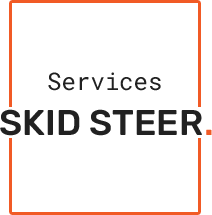 Skid Steer Services are an effective way to clear brush and debris without the use of a large excavator.
We have the specialized equipment to complete these tasks with very little disturbance to the surrounding environment.
We have attachments to suit any application, and our crew has the experience and knowledge to complete the job quickly and efficiently.
BRUSH AND LOT CLEARING
DEBRIS REMOVAL
EXCAVATIONS
SPREADING SOIL OR SAND
AUGERING POST HOLES
RETAINING WALLS
Interested in learning more about how Skywest Environmental can help your business?
We would love to hear from you!
Contact Us Today