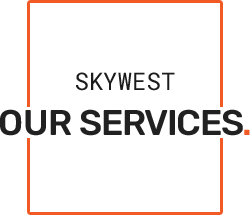 Skywest Environmental Inc. provides a full range of excavation services including, road construction, civil and and in-stream works.
We are a full service excavation contractor, allowing our customers to leave their entire project in our capable hands. With a dedicated team of professionals that are trained and certified in their field, we have the flexibility to provide quality workmanship that is always completed on schedule and on budget.
Skywest Environmental Inc. specializes in road construction, civil and in-stream works. Skywest has successfully completed many environmentally sensitive projects including in-stream works, isolations and pumping of creeks and other watercourses. Our Excavators are all equipped with non-toxic and biodegradable hydraulic oil and lubricants. We have worked in and around the Department of Fisheries windows on many, if not all of these projects. In-stream works require an environmental consultant on site working with us at all times while some of the other projects may only require daily or weekly inspections to ensure compliance.
Interested in learning more about how Skywest Environmental can help your business?
We would love to hear from you!
Contact Us Today